This year we're taking a magical quest filled with adventure and mystery…and it's all for one incredible cause. We are reading as many books as we can until February 28 to raise funds for people living with multiple sclerosis. Money raised through MS Read-a-Thon will help fund vital support services, like 1:1 Peer Support Program. This program connects people affected by MS with someone who can support them through their experiences with MS and is important to making them feel less alone. Thank you for supporting our MS Read-a-Thon adventure!
We've read
125 books
Thank you to our Sponsors
Grandpa & Grandma
Well done reading all your books!
Grandpa & Grandma
Great job reaching your goal reading your books!
Randall Mantai
Way to go Ellie. We are proud of you for your fine reading and your efforts to help find a cure for MS!
Rosa & Allan Taylor
WOW Ellie, that is a lot of money that you raised for a good cause. Congratulations.
Susan Mantai
Good work Charlie,I'm proud of you for raising funds for MS
Siobhan Byron
Well done Ellie.. keep up the reading
Glenda Miller
Good Work, Ellie!
Natalie Wood
Good job Ellie! 🙌
Brian And Diane Tkachyk
Keep up the good work to help find a cure, Miss Ellie!
Ken And Cathy Yinger
Good job, Ellie!
Kristine Unrau
Very Proud of you and keep up the good work in helping your Dad. Kristine.
Laureen Mantai
Happy reading Charlie! Love Grandma Mantai
Brody Taylor
I am so proud of you Ellie! Keep up the good work!
Uncle Brett
Keep up the reading Charlie! Thanks for supporting such a great cause! You're awesome!
Some Uncle And Auntie Somewhere
Keep up the amazing reading girlie!!
Susan Mantai
Keep reading ,Ellie girl,I love helping you reach your goal!
Jason And Sheila Martin
Great job reading Ellie, so proud of you! Can't wait till your family can visit us in Drumheller again.
Ernest & Shirley Fishbook
Proud of you, Ellie. Go, go, go! Or should I say, "Read, read, read!"
Leigh Slattery
Well done Ellie such a great thing to do.
Susan Mantai
Way go Liam!
Susan Mantai
Way to go Buddy!
Susan Mantai
Way to go Charlie!
Susan Mantai
I hope you get lots
Sharon Gaytan
Have fun reading Charlie! Lots of love from Uncle Ruben & Auntie Sharon
Great Grandma And Great Grandpa
Enjoy your reading, and thanks for helping find Daddy a cure. Love Great Grandma and Great Grandpa
Wayne Taylor
Congratulations Ellie, and keep up the good work.
Jessica Applegarth
Ellie, you are such an inspiring and sweet girl! Way to go in supporting your dad and MS research. I'm so honoured to get to be your Auntie Jessica ❤
Cindy Crich
Way to go Ellie! You have a huge heart! Keep reading!
Betty Ann Richard
Wow Ellie that is a great endeavour- good luck👍
Pam R Dublin
Great job Ellie, what a lovely thing to do.
Melissa Bender
I am so proud of you for signing up to do this!
Sharon Gaytan
Hi Ellie, Glad to see you are part of this challenge to raise money for MS. Have fun with all your reading this month! Love Uncle Ruben & Auntie Sharon
Bruce Taylor
I love you and the big heart you have for helping others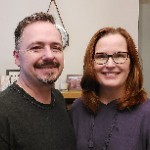 Brenda Taylor
I am so proud of you Ellie! Read to your heart's content and raise money to help daddy and others with MS, great job!
Aunt Pat
Enjoy your reading Charlie! Books are an amazing adventure to anywhere you want to go!
Angela Kelly
Way to go Charlie!!
Cordelia Coutu
I am proud of you Charlie girl ...love great grandma Cordelia
Kedron Coutu
Thanks For Helping A Great Cause, Your So Smart You Can Accomplish Anything!
Isabella Soppet
Go girl! Love Isabella.
David Baker
I'm proud of you, Charlie! Good luck